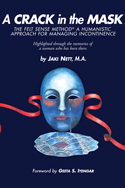 $46.95 / Perfectbound
ISBN: 978-0-615-35220-6
212 pages

About the Book
Within the pages of A Crack in the Mask, one will find more than 100 beautiful anatomical, full color illustrations of the muscular and skeletal systems of the human body and full color photographs of yoga postures. The illustrations and photographs are pointedly placed throughout the text of A Crack in the Mask and are designed to assist you with making contact with and strengthening your muscles of the pelvic floor and others of your supportive core muscle groups and to help you with your understanding and practice of The Felt Sense Method®.

I wrote this book to share my experiences as a woman who has systematically learned to control her bladder after spending years suffering with incontinence, so that other women can learn the tools to regain control over their bladders and enjoy the feeling of independence that conscious control offers.
My system for regaining bladder control, which I call the Felt Sense Method, includes four steps:
1. Looking at the psychological attitudes surrounding incontinence.
2. Acquiring knowledge and understanding about the condition.
3. Gaining understanding about the pelvic muscles and developing muscle contraction skills.
4. Committing to PRACTICE!!!
Approximately 20% of the U.S. female population experiences symptoms of incontinence. This book provides a holistic approach to the problem, focusing on education and awareness, both physical and psychological. I also provide personal stories to humanize and illustrate the concepts and to encourage and reassure readers that they are not alone.
The FSM itself is a three-step process. The first step is psychological awareness, the second step is anatomical understanding, and the third step is physical practice of specific contraction skills. Because of my background in humanistic psychology, I how important it is to provide specific psychological strategies and practices in order to help readers make making lasting life changes to address the problem of incontinence. Because of my background as a teacher and student of yoga for over 30 years, I have adapted a number of yoga postures so that any reader can use them to reinforce and deepen the muscle contraction skills that are part of the FSM. When a woman takes charge of her condition by following the psychological and physical exercises in this book to develop her awareness and control, she can find relief from incontinence and, as an added benefit, find more joy in her mind and body through her new understanding of herself.
~Jaki Nett